xPON
Huawei's All-Optical Access Solution biedt uiterst betrouwbare gigaband-netwerken, geïntegreerde services, hoge QoS- en O&M-tools om een groene, veilige en stabiele netwerkarchitectuur voor last mile-toegang te bouwen. De oplossing is een toonaangevende, next generation gedistribueerde OLT, met een focus op ultrabreedband- en multi-ISP-toegang, en een uniform platform voor serviceconvergentie en -doorschakeling. De veelomvattende ONU-serie voldoet aan de eisen van narrowband, breedband, gezinnen of bedrijven en binnen- of buitenomgevingen. De slimme en goed ontworpen ONT-serie, met een focus op thuisverbindingen, entertainment en intelligente besturing, helpt bij het realiseren van een toekomstgerichte omgeving. Het is groen en kosteneffectief met minder actieve apparaten. De All-Optical Access Solution vereist minder ruimte in de rackomgeving, wat de O & M-kosten verlaagt.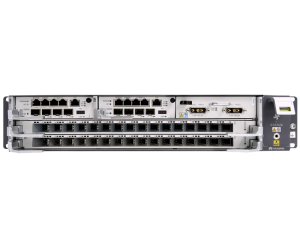 SmartAX Series OLT's
De nieuwe Next-Generation Optical Line Terminal (NG-OLT). Huawei's SmartAX multi-service toegangsmodules maken gebruik van een gedistribueerde architectuur ter ondersteuning van ultra-breedband, Fixed Mobile Convergence (FMC) -diensten en slimme mogelijkheden, zoals op SDN gebaseerde virtualisatie.
EchoLife serie ONT's
User-side Optical Network Terminals (ONT's) voor Fiber-to-the-House (FTTH), Fiber-to-the-Building (FTTH) en Fiber-to-the-x (FTTx)-oplossingen bieden toegang met hoge bandbreedte door gebruik van GPON-technologie.