There's been a lot of recent interest in Adva's filterless optical line system. In conversations with a wide range of communication service provider customers (CSPs), we've discussed what the solution offers in terms of driving new levels of capacity into access networks.
The technology is built on a new configuration of our FSP 3000 platform, and it works in concert with our network management platform, Ensemble Controller, to push coherent optics deeper into access networks. That makes it ideal for building low-cost, high-capacity access networks. But there are also other key benefits that our filterless optical line system will offer.
How it works
Filterless WDM optical networks are built with many of the same networking requirements as traditional topologies. You still have to aggregate multiple wavelengths, but now you don't need fixed multiplexer filters to do it – which are constraining in capacity and direction – or ROADMs, which are more flexible but too large and expensive for access. In place of fixed filters or ROADMs, their system uses passive splitters and combiners with coherent optics providing wavelength selection in the digital domain.
Passive splitter architectures are colorless and gridless, meaning they can support different modulation types today and into the future – important considerations for network operators looking to deploy solutions that can support future interface types and connectivity. Our demo shows the ease with which new services can be created. Ensemble Controller's network topology GUI displays the filterless optical network running in real-time; on-screen, users are presented with a graphical representation of a head-end node and various access nodes (ANs). From there, setting up a new service is as simple as pointing and clicking ports at the AN and the head end. Ensemble Controller does the rest, including selecting the optimum wavelengths.
Why deploy a filterless optical line system?
This technology is good news for communications service providers (CSPs). Because the cost of passive splitters and combiners comes in much lower, optimizing access networks becomes less of a burden. What's more, the equipment is deployed with standardized "cookie cutter" optical configurations. Add in Ensemble Controller's remote management software and the filterless optical network can be monitored and reconfigured in just a few clicks, without reconfiguration of intermediate nodes. Operators need to increase efficiency in their access networks and roll out solutions that can cope with rising bandwidth demand. Our filterless technology, with its inherent agility and ability to scale, can be a large part of the solution.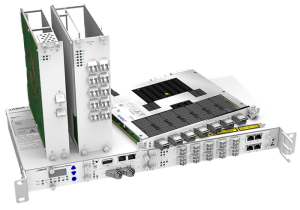 A viable alternative to ROADM networks in the metro?
There is a caveat. While the filterless approach is well suited to tree and linear topologies with point to multipoint traffic demands typical of access networks, it isn't ideal for ring or mesh-based topologies, which are traditionally implemented with ROADMs. To that end, our FSP 3000 filterless optical line system introduces innovations that reduce footprint, lower power consumption, and most importantly minimize cost. This is achieved via integration of small form-factor passive splitter devices and high-performance, low-noise amplifiers all into a compact and inexpensive 1RU FSP 3000 access node.
The future of access networks
As CSPs continue to examine options for upgrading coherent access networks, passive splitter and combiner devices are set to become key tools in the battle to increase user-available bandwidth and improve overall efficiency. Ensemble Controller, with its remote management capabilities, open APIs, and intuitive user interface, will be the software management platform of choice for these networks as operators continue to make the shift towards automated control of high capacity optical access.
Adva's also providing a range of other options through their fiber deep solution portfolio – products that scale easily and don't lock operators in with specific vendors. Watch this space for more information about these and our filterless optical line system solution.
Neem contact op voor meer informatie